"You never let a serious crisis go to waste. And what I mean by that it's an opportunity to do things you think you could not do before." – Rahm Emanuel
Business agility early in the COVID-19 pandemic
The COVID-19 crisis has prompted some organisations to make rapid adaptations in the direction of their business. This goes beyond changing the content of their product to radical changes in the products they offer and the markets they serve. Nimbleness in such spaces might be referred to as " business agility ".
In this post, we highlight three examples of innovative business agility that we find interesting plus a touching example of a junior businesswoman adapting to change. I hope that something here inspires you to help your organisation find ways to innovate and make the best of the current situation.
---
3D Printed Face Shields from NewBoCo
Late last year whilst in Prague for the Agile Prague conference I had the pleasure of spending time with Eric Engelmann. Eric is the executive director or New Bohemia Innovation Collaborative (NewBoCo) – a Startup incubator in Ceder Rapids, Iowa.
Like many other countries, the United States is facing a critical shortage of Personal Protective Equipment (PPE) including face shields for front-line healthcare workers coming into contact with COVID-19 patients. NewBoCo responded to this turning the cafeteria in their building into a face shield factory.
In this video, Eric tells the story of how 13 new 3D printers were sourced from closed schools and 25 others in the locality with printers started printing face shield parts 24/7. On their Facebook page, you can see other videos describing how they have been shipping 500 – 1000 face shields per day. You can see some of their happy customers above.
To me, this is a hugely inspiring story about how entrepreneurs and communities can pull together and punch above their weight to make a real and positive difference in a crisis.
I'm sure that once the crisis has subsided, Eric will tell us more about the challenges and the ingredients for rising to them. In the meantime, I'd speculate that some of these ingredients are as follows. Admittedly, I'm basing many of these on what I've experienced in organisations that had "naturally Agile" cultures. It's interesting to consider how many of these we discuss explicitly in Agile training and coaching engagements.
A very strong sense of purpose that resonates with everyone involved, inspiring a high degree of commitment and motivation.
Strong problem solving skills.
Role flexibility to work outside of job title or primary identity.
Rapid learning and knowledge sharing uninhibited by silos and status insecurities.
Strong teamwork: common goal, working agreements, peer accountability.
Ability to find win-win propositions for partners to move them to donate resources to the cause or enter into high trust collaborative partnership.
Ability to understand and leverage social networks to rapidly find collaborators and customers.
High transparency including of impediments.
Short feedback loops between makers and their customers.
Willingness to put conventional procurement and bureaucratic internal processes to one side to make things happen rapidly and pragmatically.
A leader who gets his hands dirty with front-line issues/work and leads by example.
Eric is that sort of leader. When he's not serving the Iowa startup community, he serves as chair of the Scrum Alliance Board of Directors.
Speaking of Scrum Alliance, that not-for-profit and its hundreds of trainers and coaches have been innovating how they operate and serve the Agile community as well.
---
Live Virtual Training from Scrum Alliance
Another radical change of direction came from Scrum Alliance whilst I was at another conference in Taronga, New Zealand. On the 13th of March Product Owner Howard Sublett announced a pivot to offering Certified ScrumMaster (CSM), Certified Scrum Product Owner (CSPO), Certified Agile Leadership (CAL) and other in-person courses via live virtual training.

Since its inception in 2003, CSM and later CSPO courses have always required in-person training with a Certified Scrum Trainer (CST). The businesses of many CSTs – including myself – have been largely based around in-person training and onsite coaching. The constraints of in-person have shaped everything from how long sessions run for the frequent flyer status of many trainers!
The hundreds of Scrum Alliance trainers and certified coaches around the world have been quick to adapt to shifting their whole business to operating 100% online. Trainers have been buying hardware, participating in webinars on virtual training techniques, reading about adult eLearning research and preparing materials that take advantage of what the state-of-the-art in virtual training can offer. I am busy doing all of these things this week.
I'm really looking forward to doing with virtual training things that were not possible in-person. This includes varying session length, providing quick individual feedback through polls and quizzes as well as practising techniques for facilitating distributed meetings and remote working. I expect that all involved with benefit from avoiding the twice daily commute or from having to travel for the training.
We're looking forward to running the whole Path to CSP series starting with CSM, A-CSM and CSP-SM as virtual training sessions over the next 3 months.
You can find a list of courses that we're running virtually on our Upcoming Courses page.
---
Hand sanitiser from Archie Rose
Archie Rose are award-winning distillers of boutique gins, whiskies and vodkas based in Rosebury, Sydney. Here's founder Will Edwards explaining why and how is founded the first distillery in Sydney in over 160 years. A "combination of tradition and innovation".
Since COVID-19 swept into Australia, they have become makers of boutique hand sanitiser! If you would like your sanitised hands to smell of grapefruit, cassia, cardamom and thyme, this might be just what you're after!
There have been more and more distillers of alcoholic beverages pivoting into manufacturing hand sanitiser over recent weeks. Why so?
For Archie Rose, they already had much of the production infrastructure and the licenses necessary to produce sanitiser. Taking on the production of a now essential product for public health means that they can keep on their personnel and redeploy them to fulfilling orders.
Judging by how quickly their first batch of sanitiser sold out after a story about this was broadcast on national television, they're going to need plenty of staff to get near satisfying demand.
To read more about this example see What is Archie Hand Santisier and why are we making it?
---
No Contact Girl Scout Cookies from Violet
This is a story not of a big publicly listed company but of the daughter of a fellow Scrum trainer in Chicago.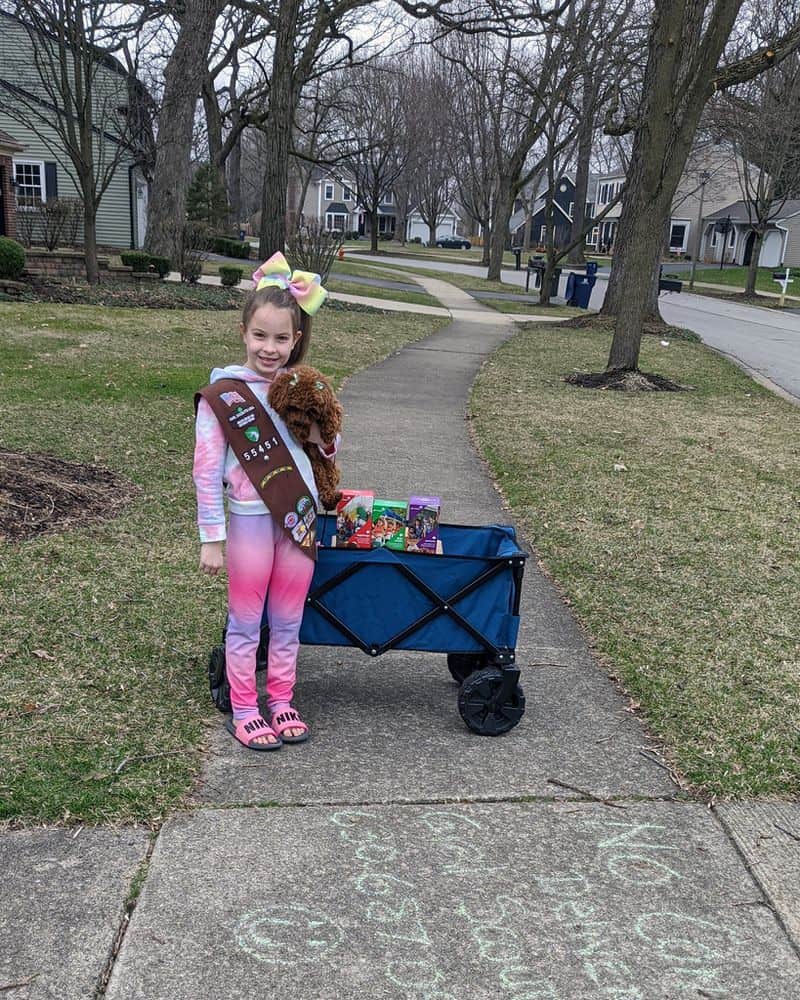 Eight year old Violet had a big goal of selling 400 cookies for the local Girl Guides. When her neighbourhood went into lockdown, she was told she could no longer sell them door-to-door. This could be a crushing disappointment for many 8 year olds.
During quick errant to return library books with her dad, Violet saw several messages written on the footpath in chalk about smiling and doing exercises.
Upon returning home with this story, Violet and her mum hatched the idea to advertise with "No Contact Delivery Girl Scout Cookies <phone number>" on local pavements.
Orders started rolling in within an hour. The local newspaper even wrote an article on the 8 year old business innovator!
---
These are just a few of the many examples of rapid pivots, innovation and business agility that I have come across so far in response to the COVID-19 crisis. What examples have you seen? Please let the community know by adding a comment below.