At the start of a new decade, it seems apt to pause and reflect about how we are approaching change in the workplace. If you were hampering the effectiveness of the Agile adoption through the words that you use, would you want to know about that? After all, the language you use is something that you have complete control over.
I often hear people asking things like:
"How can I get them to have an Agile mindset?"
or
"How can I make them change their behaviour?"
Unfortunately, these are the wrong questions if you want a to maximise your chances of a successful Agile adoption.
Notice the language here? "Get them" and "make them" is language of coercion.
noun: coercion
the action or practice of persuading someone to do something by using force or threats.
I often sense that at the back of the minds of people who use coercive language is a resentment of having been coerced in the past. I also sense an awareness that the Agile movement promotes a different approach to change from a forced, manipulative or coercive one.
What are the consequences of using a coercive change approach to "roll out" Agile?
Overt resistance: people pushing back with objections.
Half-hearted adoption: whereby people approach it with a "have to, don't want to" attitude. As Christopher Avery points out in The Responsibility Process this is a low performance state when compared with genuine ownership and taking of responsibility.
Deliberately undermining the change: toxic behaviours such as spreading cynicism, refusing the participate and encouraging others similarly.
How can we avoid overt resistance, half-heated adoption and deliberately undermining the Agile-related change?
Some excellent answers to this are shared by Michael Sahota in his Certified Agile Leadership courses. A short summary can be found in his blog post How to Overcome Resistance in Your Agile Transformation – The Power of Invitation. In this post, Michael outlines 5 "red words" that are not so effective paired with 5 "green words" that provide more effective and Agile-aligned alternatives. I highly recommend reading that blog post.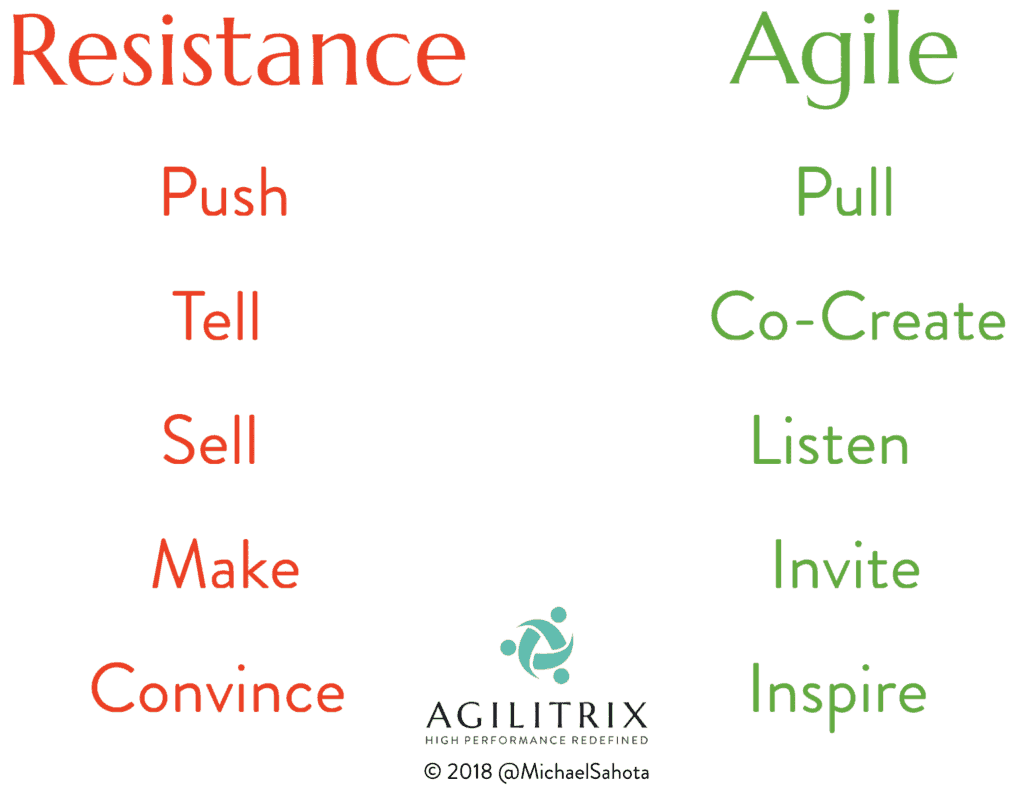 How often do you use a Red word or approach when trying to stimulate change?
The remainder of this piece provides some examples of how you can shift your language from red to green words and lead by example others to do so too.
---
Example A: turning Push into Pull
Consider that statement:
"We have KPIs to roll out an Agile way of working to five more teams this quarter."
Let's assume that there is no "informed consent" i.e. these teams are not well informed as to what this "Agile" thing means for them and have not been asked whether or not they would like to give it a try. This may reflect a traditional approach to change management but not one that is aligned with a humanistic Agile approach.
The managing director at my first employer had a very different approach to change. He would announce broadly that he saw X as important to the company's future and would indicate that the door was open for someone to take the opportunity to lead the way with it. Repeatedly we all saw how the first to take up the opportunity naturally put themselves in the best seat to shape how that thing played out. To lead and be influential. XML, Topic Maps, Scrum and Agile Coaching were examples of opportunities that I was first to take-up the reigns on. This was very much an opt-in approach that encouraged initiative taking. I came to see the world as full of opportunities like limited-time windows that were closing out. This instilled a sense of urgency and energy.
What does the phrase "roll out" mean to you? To me it implies a mechanistic, plan driven, cookie-cutter approach. It implies that we have a either a standardised practice (possibly a best practice) that we are can push out across a larger scope to scale it up. It implies push rather than pull.
So, instead of our "roll out" language, how about something like:
"We have five experienced ScrumMasters becoming available to work with teams this quarter. There's an opportunity for a up to five teams to be pioneers of Scrum in our organisation this quarter. I expect that the learnings from these teams will have a significant influence on the way others here approach Agile."
Example B: turning Tell into Co-create
Consider the statement:
"Your visual management board is not clear to me. Here's what I'd like you to change about it…"
If the person saying this it outside of the team, this proposal immediately undermines any perception of ownership and self-management. It may also appear that that you're not interested in what the team thinks or in preserving their ability to have any choice in the matter.
Instead, how about:
"Would you like to work together to sketch out and try a new board design?"
For a team owned artefact like a Sprint Backlog, asking this of a single team member is not sufficient as it cuts the rest of the team out of ownership and contributing to the board design. Co-creation allows for multi-directional learning. You are likely to learn more about the team's challenges and needs whilst the team may learn about considerations in designing a visual management board that is effective and good fit to their actual needs.
Example C: turning Sell into Listen
"How can I sell Agile to my boss?"
or
"How can I convince my boss to invest in Agile?"
This is selling a solution, but what's the problem?
Instead, try asking yourself: "What positive change does my boss most want to see and how can Agile help us achieve them?"
Don't just guess or make assumptions about this. Instead, listen.
Listen in a conversation that provides time for reflection and structure to identify the ends to be achieved, why they are valuable and how it would be measured or assessed. Find out what the problems or improvement opportunities are that your boss really cares about and only once they are clear and agreed, raise awareness of aspects of Agile that address them. You might then move to a discussion along the lines of "if you want X ends to be achieved, that's not likely to happen without an investment of Y".
If you're unsure about how to do this, we would be delighted to pair up with you have such a conversation with a sponsor or group of senior managers using one or more well proven approaches.
Example D: turning Make into Invite
Consider:
"I would like you to do <X> now."
I have on many occasions found myself using this sort of language on training courses.
Instead try:
"I'd like to invite you to join me in doing <X>."
An invitation presents options to the invitee to accept or decline the invitation. It conveys an attitude of generosity and of giving that is a clear departure from telling.
Example E: turning Convince into Inspire
Consider:
"It's really important to run well facilitated retrospectives. You should use the five part agenda described in the book Agile Retrospectives by Diana Larsen and Esther Derby.
Instead try thoroughly preparing and facilitating a high-quality retrospective yourself that showcases the techniques that were trying to convince the individual to try. Beliefs are much more likely to change though a compelling real-world experience that just words and other symbols.
---
Change your mindset to change your language
Of course, it's not just as simple as changing the words that you use or just repeating the sentences above and the appropriate moments. For you to overcome resistance, it requires you to be consistent about your language and how you approach colleagues. Being consistent requires escaping your habits and replacing your prior mental model with a new one. It requires cultivating belief that what is often a longer and less direct path is actually the more effective one. It takes practice and a substantial inspiration to get you started.
For me, one of the first words I change in my Agile journey was from saying "you" to "us" or "we". I could only keep consistently to that after I had taken to heart that what my teammate was doing and what I were doing were intrinsically interdependent. That we were in this together. There was no you and me distinction that was relevant in most context – only "us" and "we" together.
Where can you start practicing this and spark this change in yourself? The best opportunity that I've seen for this is Michael Sahota's Certified Agile Leadership programme.
I also recommend reading Michael's blog post "How to Overcome Resistance in Your Agile Transformation – The Power of Invitation". Many thanks to Michael Sahota whose work inspired this post.