Adapting to change has become personal
The Scrum Master role was already hard enough. Then the COVID-19 pandemic sent us home from the office and suddenly Scrum Masters are trying to lead team development between people scattered around homes and office locations who interact mainly via text in instant messaging. This sudden change from face-to-face to hybrid or all remote challenges Scrum Masters, Agile Coaches and other Agile leaders to adapt to the change. Data that we collected last week revealed that many of us are still struggling with such adaptions.
Last week we led a highly interactive webinar on the topic: "How can Scrum Masters be effective in a hybrid remote working world?". This was organised by Equinox IT with whom we have partnered since 2009 to bring high quality Scrum training to New Zealand. This post discusses some of the themes covered plus some additional thoughts that participant input inspired by participant input during the webinar.
The New Normal?
It appears that remote and hybrid remote working is here to stay for many in the IT and product development industries. For many in these industries, the default is now remote working with a reason required to spend more than "team days" in the office.
On top of employers actively encouraging remote working, a recent survey by the ACTU showed that 80% of employees prefer remote working. Now that remote working has been demonstrated to "work" to an acceptable level, the combination of employers and employees both seeing it as beneficial makes at regular remote working probable long term.
The challenges are numerous
"The most efficient and effective method of conveying information to and within a development team is face-to-face conversation." – The Manifesto for Agile Software Development
Agilists have long advocated co-location and Scrum Masters have long relied on co-location in order to observe, listen and synchronise their interaction to the activity of team members that they can see across the physical office. The absence of co-location means that all these channels for transparency and ad hoc interaction are no longer available… unless some innovative alternatives are used. We briefly discussed some of these in the latter portion of the webinar.
What was evident even before the webinar is that Scrum Masters are facing a large number of additional challenges due to working remotely. The breadth and depth of such challenges being experienced by webinar participants can be seen in the affinity clustered stickies below. These were collected from webinar participants at the time of registration. Select the image below to see the detail in PDF format.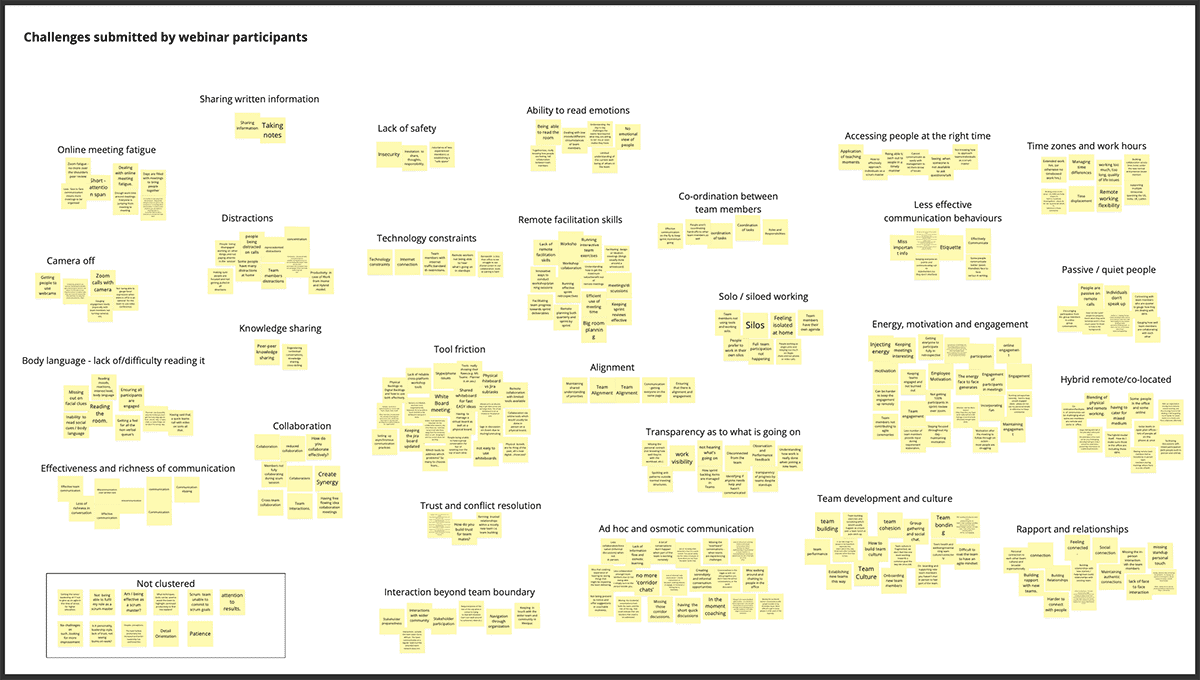 The largest clusters include:
Energy, motivation and engagement (24)
Tool friction (21)
Ad hoc and osmotic communication (20)
Team development and culture (16)
Rapport and relationships (14)
Remote facilitation skills (13)
Note that many of these are interrelated. For example, a big influence on energy, motivation and engagement during calls is remote facilitation skills and how they are applied.
By using an interactive polling tool (Mentimeter) we were able to review and discuss data from participants in relation to the difficulties that remote and hybrid remote working has brought with it. Also to ascertain what tools and techniques the participants are using with varied success in addressing these issues.
Cameras are mostly off
One data point that I was shocked by is that 58% of webinar participants reported that their meetings are "mostly camera off" with full 81% having some or all participants audio only.
According to remote working expert Lisette Sutherland:
In terms of team building, the biggest advice I have is to turn on the cameras. Tun on the webcam and see each other – that creates empathy instantly. It's a lot easier to communicate and create bonds when you see each other.
Given that, a camera off meeting culture is the first thing that I would recommend fixing as a Scrum Master. How do you do that when there is always at least one person with a reason why they don't have their camera on, and that one person legitimises it for the rest of the meeting participants?
In our latest Advanced Certified ScrumMaster (A-CSM) course we explore how standing agreements for remote working can be used to establish and maintain a cameras-on culture as well as to address numerous other online meeting issues that webinar participants have.
Facilitation skills have gone from important to critical
Is maximising group effectiveness in workshops and meetings more or less difficult when remote or hybrid remote and co-located? If more difficult, then a skilled facilitator is even more necessary.
Remote workshops require a big step up in facilitation skills. Whilst fairly "loose" facilitation of open discussion may have been barely adequate when face-to-face, in many online meetings this is no longer working.
The input from webinar and recent course participants also reveals that some of the most foundational ingredients for remote working such as working agreements do not have satisfactory coverage or the team does not have strong commitment to them.
In our A-CSM we discuss and make use of facilitation techniques that span the decisional meeting spectrum from Divergent Zone through the difficult Groan Zone to the Convergent and Closure Zones.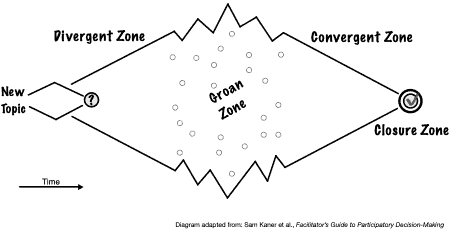 Collaboration through the day remain mostly untried
The biggest pandemic-induced declines that Scrum Masters identified are to do with how to engage with the Scrum Team through the bulk of the work-day.
Out of a short list of 7, the 3 areas that have gotten worse the most since the pandemic began are:
Transparency as to what is going on during the day
Ad hoc interactions
Rapport and relationships
The participating Scrum Masters and Agile Coaches are relying heavily on the Daily Scrum/stand-up and monitoring instant messaging to inspect what is happening during the day.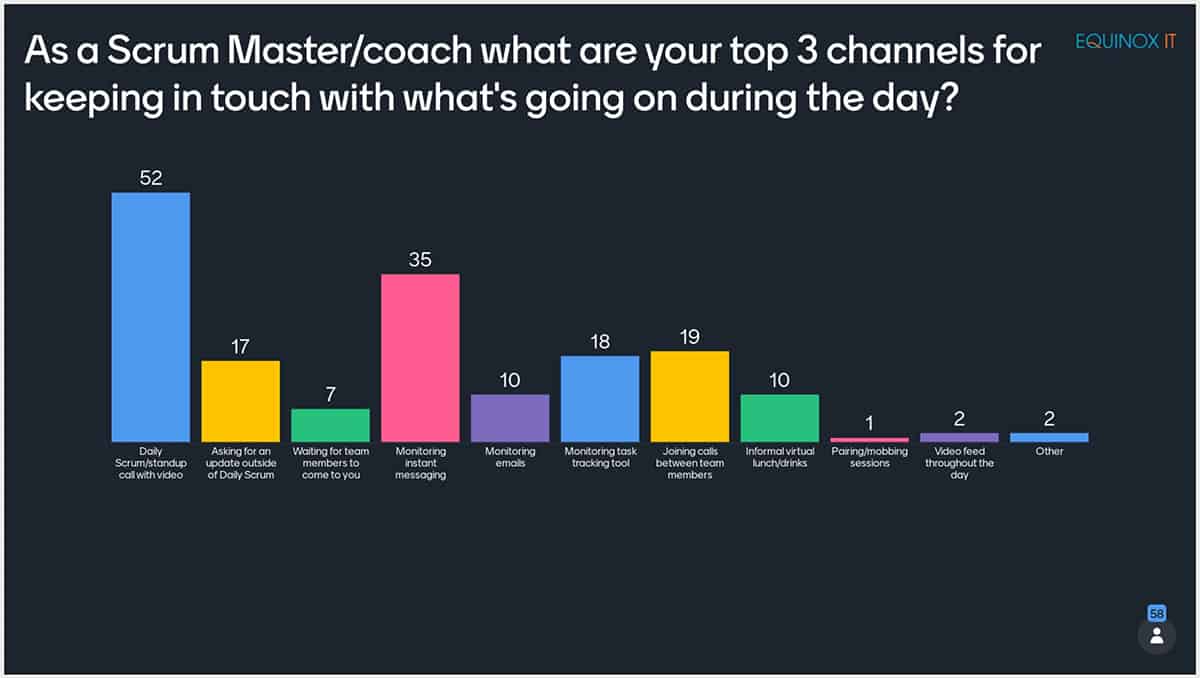 The 15 mins or less team co-ordination event and the generally short and transactional nature of instant messaging offer only a thin sliver of visibility into what is happening hour-to-hour through the day. Weak signals of individuals missing opportunities to communicate and collaborate are invisible. Instant messaging does little to enhance rapport and relationships.
There are techniques for turning the visibility and interaction bandwidth from a metaphorical drinking straw into a fire hose. Techniques discussed include remote pairing, pairing dojos for deliberate practice and mobbing. Also a high bandwidth virtual team room with which it is reported that "Scrum Mastering and coaching are easy under these conditions" (credit to Mishkin Berteig of Berteig).
Conclusion
The data from our recent webinar clearly shows that the effectiveness of the participating Scrum Master and Agile Coaches has been detrimentally impacted by the shift to remote working. Being a role highly focused on optimising interactions, it is perhaps not surprising that the effectiveness of Scrum Masters and Agile Coaches is detrimentally impacted by the shift to remote working.
If we assume that remote and hybrid remote working is set to become "the new normal" and most Agile teams will not return to 100% co-location, then Scrum Masters and Agile Coaches must do personally what they coach others on and adapt to this change.
The good news is that there are opportunities for leveling up facilitation skills that are even more crucial in online and hybrid settings. Our online Advanced Certified ScrumMaster training addresses universally applicable facilitation techniques for all phases of decisional meetings well as effective online facilitation techniques. Our online Certified Scrum Professional-ScrumMaster training goes deeper with structured facilitation techniques, creative reframing as well an assignments to create one of the most challenging of agreements – a formal coaching agreement. In add of our online courses we practice check-in and checkout protocols, always on video and use the most powerful online collaboration tools such as Miro and Mentimeter in a way that has already inspired many Scrum Masters to adopt them for their teams.
We're all facing this remote working challenge together. After pivoting and redesigning all of our training and coaching offerings for online delivery this year, we are well placed to inspire and invite Scrum Masters and Agile Coaches to pivot and level up to the challenges of this new normal.
It's time to go beyond coping and to work towards thriving with constant high bandwidth collaboration throughout the hybrid and fully remote working day. Some Scrum Masters and teams are already doing this.
Level up to stay effective
Our Certified ScrumMaster (CSM) courses start with establishing working agreements, offer opportunities to practice group facilitation in short time-boxes and demonstrate the application of state-of-the-art remote working tools.
Our Advanced Certified ScrumMaster (A-CSM) courses dive deeply into facilitation techniques across the spectrum of group decision making processes. They involve practicing structured coaching conversations in a dojo and offers structured impediment analysis and resolution techniques for addressing such matters as lack of state-of-the-art electronic tools for remote working.
Our multi-month Certified Scrum Professional-ScrumMaster (CSP-SM) learning journey specifically explores the challenges of remote meeting facilitation including practical techniques to apply not just for open conversation but structured facilitation techniques and when to use them. Our CSP-SM programme involves applying facilitation techniques to Inter-team interactions such as large-scale online meetings.
Watch the Webinar
Equinox IT have kindly posted the webinar for you to watch in full. Please let us know what your remote working challenges and learnings are via the comments section below.